Sleepers are air seasoned in stacks according to the standard SRPS D.T4.020. Before impregnation, the quality control of sleepers is performed on the planing machine in order to check fulfillment of the required standards. In this phase, the degree of dryness is also determined.
Impregnation process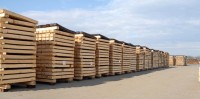 Impregnation is carried out with creosote oil WEI type C (EN 13991 quality C), produced by RÜTGERS Basic Aromatics GmbH, Germany. We use single, double and improved double Rüping method. The impregnation of beech sleepers is carried out according to the following standards: SRPS D.T4.062 and SRPS D.T4.063 and DIN 68811, and for oak sleepers: SRPS D. T4.061.
The sleepers which are ready for impregnation are stacked on wagons, which are weighed and the exact amount of oil absorption per sleeper is calculated based on the volumetric mass before and after impregnation.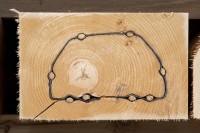 Impregnation records are kept, where all relevant data defined by the standard are entered. The impregnation process is controlled and registered by a device, which registers pressure, vacuum and temperature. In addition, batch number, date, quantity and signature of authorized controlling person are entered into a graph.
Quality Check-up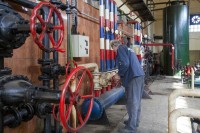 Quality check-up is carried out after the completed impregnation process by using Pressler drill to drill out test specimen to determine the penetration depth of impregnating agent. Impregnated sleepers are marked with numerators with imprinted year of impregnation.
Technical Documentation
On customer's request, the following technical documentation is issued for impregnated
sleepers:
Certificate of Analysis of creosote oil
Safety Data Sheet for creosote oil
Decision of the Chemicals Agency of the Republic of Serbia allowing import and usage of creosote oil type C No. 532 – 01-1035-2010/03 of 08/06/2011
Testing Report of IMS Institute, Belgrade ISO standard SRPS ISO 9001:2008.